About Dutch Pedelec Tours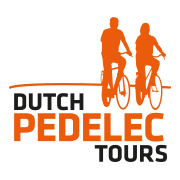 Dutch Pedelec Tours is a company that focuses on the rental of high quality e-bikes (pedelecs) in IJmuiden, Wijk aan Zee, Haarlem and surroundings.
Why? We know that most of the people who come to the Netherlands wants to see Amsterdam. Okay, you have to be there once but there is so much more to see and experience in our country. Why do the same as everyone else does? Do as the Dutch will do, for instance.
With our team of motivated and serious staff we provide several routes through the area. We have the best routes and arrangements for you.
And because our electric bicycles are equipped with pedal assistance, it is more than a relaxing way to enjoy the surroundings. And above all it will keep you healthy.
Day Tours by Dutch Pedelec Tours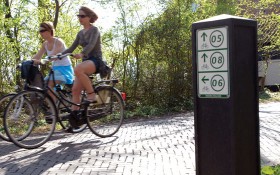 You can plan a self-guided tour with an electric bicycle for a day. Dutch Pedelec Tours has already collected the best day tours for you. You can find them on our bike tour page

When planning to come to Haarlem we suggest to visit the special Haarlem page
Long stay with Dutch Pedelec Tours
If you are planning a vacation in the Netherlands you can consider a bicycle holiday tour and experience the Netherlands at its best.
You can rent the pedelecs for a week or even a fortnight or more and we can provide you with panniers, luggage carts and even child carts. We won't bring your luggage from place to place because we think that that's not the way how it should be.
When planning your bicycle holiday in the Netherlands let us advise you. Dutch Pedelec Tours will be more then happy to help you.

Please check our special bicycle holiday in The Netherlands page.

Outside our pickup point you can let the pedelecs be delivered to your hotel or campsite. In the direct surroundings of IJmuiden or Wijk aan Zee we will deliver the pedelecs with no extra charge.
Companies
Are you the owner of a tour company or a travel company and you are interested in offering this special service to your guests? Do not hesitate to contact us!

We provide a complete program, optionally with guide, lunch and / or dinner. And we can advise you the best places to stay.
Also for team building activities you can use our professional staff.
Our Partners
Bicycle shop Van Doorn is a partner when it comes to delivery and maintenance of our bikes.
Restaurant Kop van de Haven is your stop for a refreshment or a delicious diner.
You can also make a reservation of our luxury pedelecs at Hotel Velsen in IJmuiden.
It is also possible to rent our pedelecs when you stay at the gorgeous hotel Duin en Kruidberg.
IJmuiden aan zee is our touristic partner.
Want to be our partner? Call +31 6 5582 4710
Dutch Pedelec Tours is partner of iamsterdam.com
Our international partners
ISRAEL
Tel Aviv Bike tours is a company which provides guided bicycle tours in Tel Aviv. They are now als provide 7 days all inclusive guided bike tours in the Netherlands.
FRANCE
Petit Fute – Les meilleures adresses, idées vacances et week-end du Petit Futé
AUSTRALIA
Ride Advisor Australia – AUSTRALIA'S #1 FOR CYCLING DEALS