tulip bike tour
Enjoy the beauty of the tulips in springtime with our Pedelecs on this Tulip Bike Tour.
You can do a day or weekend trip around Haarlem and to bulbfields of Lisse or you can enjoy a tulip cycle holiday in 7 days to the biggest, uninterrupted flowerbulbarea in the world in the Head of North-Holland.

You can do the tour self-guided. If you want a guide we have created a tulip bike tour Haarlem in cooperation with Veritavisit and hotel Duin & Kruidberg.You start and end the tulip bike tour at hotel Duin & Kruidberg. This hotel is situated in the beautiful surroundings of the National Parc in the Amsterdam Beach Area.
Tulip bike tour Haarlem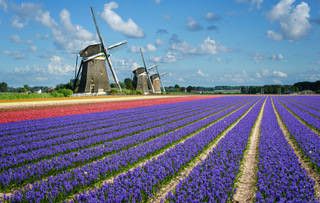 Full day cycle tour trough the tulip fields around Haarlem & dunes
This trip leads you past the famous bulb fields of Lisse and the forest area of Bloemendaal, Overveen and Bentveld. Millions of tulips and other bulb flowers are in bloom during Springtime. It is a wonderful experience to see the unique and magnificent display of colour against a sumptuous backdrop of traditional and modern landscape gardening. The best time of the year to cycle the tulip bike tour haarlem is from the end of March until the end of May, depending on the weather. During these months the bulbs are in glorious bloom!
The tulip bike tour haarlem is about 40 miles when you start your tour at Duin & Kruidberg which is a breeze with our state of the art e-bikes!
You can book the trip just as it is, but why not indulge and book a stay at the luxurious hotel Duin & Kruidberg. You can even decide to do one of our other bike trips to the coastal area, Haarlem or the National Parc on the next day, or just take it easy at the site of the estate. We can offer you special rates for the trips and stay at the hotel.
The tulip bike tour Haarlem is about 20 miles long if you want to start the tour in Lisse.
Tulip Bike tour Haarlem with a guide
4 reasons to book this tulip bike tour Haarlem
– E-bike makes this bike ride super relaxing
– Passing through multiple small flower villages, dunes and flower fields
– The best typical Dutch scenes in one bike ride
– Chance to see the sea. Our cycle route is completely adaptable to your wishes
The Tulip Bike tour Haarlem is a really relaxed bike ride as it is done on a e-bike. This way we can easily reach many of the quaint Dutch flower villages in the bulb flower area, take in the lovely panoramas and typical Dutch scenes such as black-and-white cows in the green meadows, windmills near canals and of course the dazzling fields of spring flowers. The landscape is just amazing. Besides a good amount of richly scented hyacinth fields and multi-coloured tulip fields, the cycle route also takes us through a forest and dune area. The cycle route through the area of tulips, daffodils and hyacinths is not set, during the bike ride we can opt to go and cycle past the North Sea coastline, have a coffee looking out on the tulip fields or visit one of the many flower festivals that take place during this season. Our destination is the spring flower garden Keukenhof.

For groups of 10 -15 participants starting from € 42,50 including bike rental, local guide who speaks Nederlands, English & Español. Not included: a visit to Keukenhof, the world famous tulip garden in Holland. This can be arranged on request.
For smaller groups please ask us for these deals!
Self-guided Ar
rang

ments

Price for a pedelec to rent per day: € 30,-

Price for a whole weekend (fri-sun) € 75,-.

Route descriptions included.

When you start your tour somewhere else we charge delivery costs for transportation of the bikes. No matter how much bikes to a maximum of 10

Special
arrangement

Duin & Kruidberg;

One day Pedelec rental
Well-filled picnic backpack for lunch
Three course "Menu from the Market" in Brasserie DenK
Copious breakfast buffet in Brasserie DenK
One night in a comfort Patioroom
Free parking facilities and wifi
Total cost € 195,- per person
This package price is per person, based on a two-person stay (single occupancy supplement starting at € 75.00) and depending on availability.
Or book an arrangement with a Pedelec, a 3-course menu at Brasserie DenK and coffee/cake for € 90,- per person
You will start your day with coffee and cake. After a long and nice day cycling through the fields you can relax and enjoy a delicious diner at the brasserie DenK.
Please make the necessary reservations to avoid disappointments.