Our e-bikes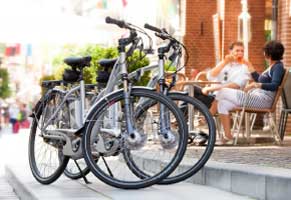 Dutch Pedelec Tours utilizes high end electric bicycles from the Swiss manufacturer Flyer. Your bike is equipped with a so-called pushhelp. This is to make your Pedelec move slowly up to 6 km. For example, when you enter a tunnel or an underground garage, it helps to climb the slope. You need not be afraid that you get lost, thanks to the built-in GPS tracker, we can find you quickly and easily set you in the right direction.

You can also have wifi for the duration of the trip so you can enjoy apps that will enhance your knowledge about the sightings.
flyer e bike
The T Series comes into its own on longer trips and is healthy for you and good for the environment too! The e-bike is bounded up to 25 km per hour.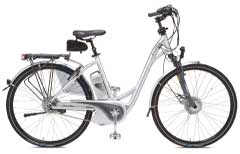 The T-Series has a slim frame and stands on sporty 28-inch tires. The bike has a sporty seat. Even without support this flyer rides excellently. Often we hear of enthusiastic cyclists, that they drive without the support and only use the high position switch for the ascent of the Kopje van Bloemendaal, the IJmuiden locks or Kennemerduinen. When driving for the wind support is often not necessary, but a strong headwind against is no problem thanks to the help of the powerful engine. You zooms fellow cyclists with a broad smile over!
You can rent Flyer pedelecs to start your journey.
contact us for more information