Cycling through the Dutch Dunes

There is no happier cyclist than a Dutch cyclist. This is not only because The Netherlands is mainly flat, but also because the Dutch enjoy the most extensive cycle network in the world. This small country has over 25,000 miles of high quality traffic free cycle routes (!) and on many occasions cyclists have priority over motorised traffic. This is a cyclist's paradise; whether you are a novice cyclist, want to give children a safe and fun cycling experience or want to do serious mileage in a unique cycling minded environment; cycling holiday Holland is the ultimate destination for the perfect cycling holiday!
And with a Pedelec you can enjoy even more. No sweat, just easy bike riding and enjoy it all because a holiday should be fun, right?

You can book your own tour and rent the Pedelecs, we will bring them to your location. Do you want help in planning your holiday we would be happy to help you. Just ask us.
Cycling Holiday Holland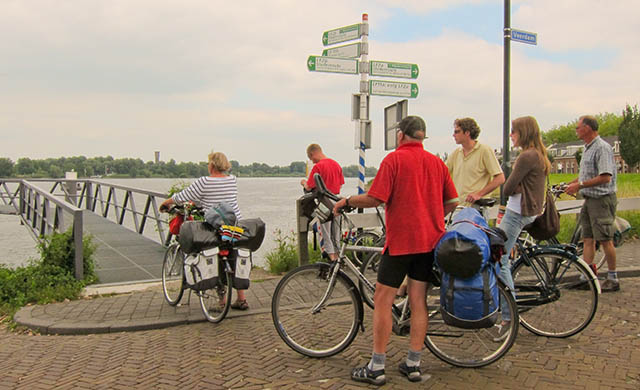 An extensive network of cycle paths takes you all over the country with a cycling holiday holland, often along routes closed to other traffic. From the popular touristic highlights to hidden gems, there is plenty to see and do. And – Holland is flat, so everybody can enjoy the unique Dutch cycling experience.
The most important thing about any Dutch Pedelec cycling tour is getting to know the amazing benefits of traveling by pedelec. Pedaling through the countryside, you'll be intimately connected to the landscape, your senses fully engaged in the experience. The sights, sounds, and smells of the environment, the unique and delectable taste of seasonal specialties, and interactions with local people lead to true understanding and full-bodied memories that last a lifetime. And that's all possible with the perfect pedelec, a comfortable Flyer pedelec.
7 days guided cycling holiday tour
If you want to discover the Netherlands in a unique way and participate in a guided trip, you can use the services of tlvbiketours. We work together with this professional and enthusiastic organization. You book the trip with them, you will receive the bicycles from us.
View more information here.
Information about cycling in the Netherlands
There is a lot of information on cycling in Holland, but most of it is only in Dutch. Therefore Holland-Cycling.com has collected all you need to know – in English.
There is another very good cycletourer website about cycling in the Netherlands in English made by enthusiastic cyclist.
check out cycletourer.co.uk
The Netherlands has a unique signposted network of rural cycle routes ('landelijke fietsroutes' in Dutch; LF-routes for short). Check out the video below to see how easy it is.
Prepare yourself for your trip. Choose your destination and use the Pedelecs to get you where you want.
Do you want more information or hire some pedelecs? Just ask us
Day trips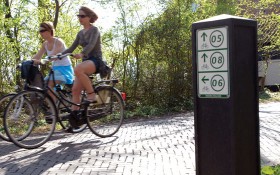 Are you in Holland for just a short time? Do you want ideas for the very best cycle route? We've made a selection of 'must do' day trips in the Amsterdam Beach area. Not only to the touristic highlights, but also to other places of interest, including many areas of outstanding natural beauty.
Long-distance cycle routes

Do you want to cycle through Holland for several days or even weeks? There are many marked and unmarked routes of varying lengths. Some have an interesting (Dutch) theme. The signposted national long-distance cycle network (LF routes) is ideal for cyclists who are new to Holland.
We think you can plan your holiday yourself. It just depends on what you want to see and what you want to experience. Where you want to sleep and what you want to eat. No problem.

But when you need help planning a holiday in Holland we can help you to plan your tour.
If you are planning a self-guided tour we can provide everything what's needed. Just tell us how many miles you'd like to ride per day and what your interests are.
Based on that we propose you an itinerary with which you proceed to book your accommodation.
Once that's done we adjust your routes to start and finish at the by you provided addresses.
Tip! You can also rent a bicycle bearer for your car for two bikes if you are doing a tour by car.
If instead you are thinking on having a great ride and get back to your hotel, let us suggest you where to go. We'll design a route that starts and finishes at the door of your hotel which takes you to places you wouldn't find otherwise.
Scenic and safe, these are our premises when plotting your routes.
Ask us for the special prices. Price depends on the total days you want to use the pedelecs and where you want the pedelecs to be delivered. Only in the region IJmuiden the bikes will be delivered with no extra cost.
Price indication:
One day – € 30,-
Weekend – € 75,-
One week – € 140,-
Two weeks – € 260,-

For more weeks ask us for the special prices.
Price always include;
Flyer pedelec
Bicycle bag
Helmet ( if you want)
Battery charger
Extra lock
Full service when having troubles on your way

extra accesoires possible like:

Luggage car
Bicycle carrier for your car for two bikes
Child or infant seats
Mobile Wifi

For full service in helping you plan your trip we charge some extra depending on how many service you want. We can fully plan your trip, advise you in accomodation based on your budget or even provide guides if you want.

Do you want more information or hire some pedelecs? Just ask us