Cycling and sailing through the Zaan region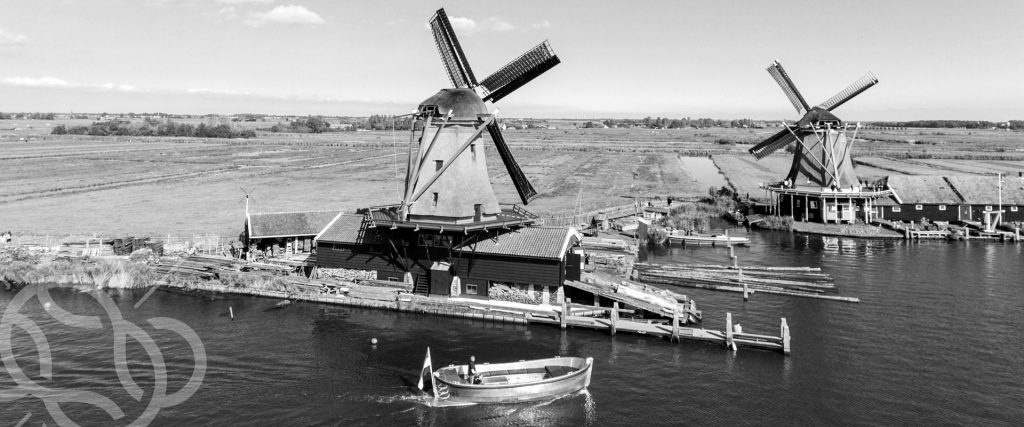 You will discover the beautiful and authentic part of the Zaan region by bicycle and by boat with this unique cycling and sailing through the Zaan region tour. First you cycle along the banks of the Alkmaardermeer over a part of the so-called ferry route. You cycle through polder countryside and small villages and on your way you occasionally cross a small canal with a ferry that in some cases you also have to operate yourself.
Cycling and sailing
After the bike ride there will be a lunch break after which you will transfer to a boat to sail down the river Zaan towards the world famous Zaanse Schans. You sail through industrial heritage and past the many mills that are still standing here. Of course we stop at a mill that is still in operation to experience how this works. There is also time to visit the Zaanse Schans itself, after which we will sail back across the Alkmaardermeer to Uitgeest.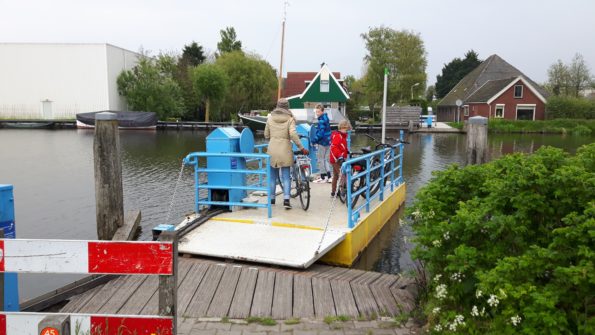 The excursion is offered from April 1, 2020. Reservation for this trip is mandatory and it will only be canceled in extreme weather conditions. In case of rain we will provide alternative transport for the bicycles.
This day trip can be booked for an all-in amount of € 90,- per person.
This cycling and sailing through the Zaan region trip can be booked by groups of 6 -12 persons. Sometimes you can join another group so call us in case you are just with 1 or 2 persons.
We will start this tour at the train station of Uitgeest.
About this tour
We will meet you at the train station and take you to the starting point where the Pedelecs are waiting for you. After a delicious cup of coffee or tea and a biscuit, you start the first part of the program. You can do this bike tour completely independently with the help of our route maps. If you would like a guide, please let us know.
After the bike ride you can enjoy a delicious lunch, after which we start the afternoon program with the sloop.
The boat trip ends in Uitgeest where we started and where there may also be an opportunity to end the day with a drink and a snack (not included in the price).
At the end of the day you will be taken back to the train station.
Tough sloop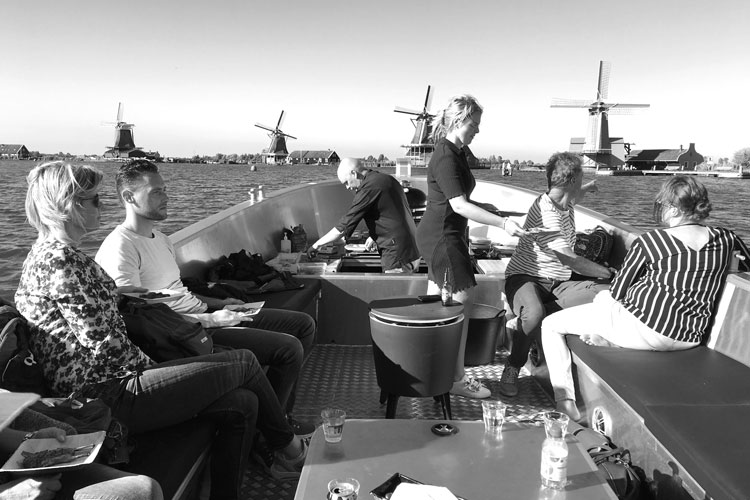 Shipping company Uitgeest sails with the Explorer 950 from Bobsloepen, a solid and trendy mega sloop. Or, as De Telegraaf wrote: a no-nonsense sloop that distinguishes itself in purity. The look is derived from an authentic lifeboat, so sleek and sturdy, but with all the luxury and convenience. Think of heated pads and a comfortable toilet. And well equipped: from our own rain suits to sunglasses, we are prepared for everything. There is room for a group of 12 people per sloop. Do you have a larger group? Then we will arrange more boats!
The Zaan region
So close to Amsterdam, and you are immediately in a completely different world! That's what we often hear from our guests. It is also hard to believe that there is still such a beautiful nature reserve in the middle of the Randstad. The Alkmaarder- and Uitgeestermeer forms an extensive lake area with unique spots and surrounded by meadows and authentic villages. It seems as if time has stood still. Rippleless water, a flight of geese, winding dikes and in the background the mills, the fortresses and the church towers. This is North Holland at its best. And the nice thing is: we don't have to follow a set route, we can go either way.
For example to De Woude, an island with a nature reserve of Staatbosbeheer. It is one of the five richest meadow bird areas in the Netherlands. In the summer we can moor for a refreshment on the terrace on the water, in the winter we can warm up in the characterful restaurant.
Cultural heritage routes
If you are not a nature lover, we can also set course for De Zaanstreek. From the lakes we sail straight onto the Zaan, past traditional warehouses to the Zaanse Schans. This is an unprecedented piece of cultural and the oldest industrial heritage.
You will find even more history in De Rijp, once known for its herring fisheries and whalers. Golden times have left the most beautiful town halls, warehouses and churches. And there is more than the prosperity of yesteryear, because traces of the watery history of this special village are still visible everywhere.
Packages or a tailor-made program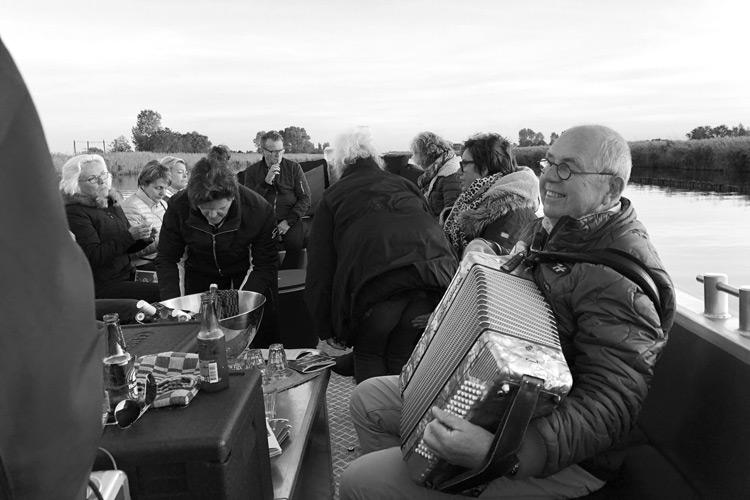 The basis of this cycling and sailing through the Zaan region arrangement is cycling and sailing. On the bike you experience the beautiful surroundings, the small villages and you can operate the ferry yourself to get to the other side of the water. By boat you will experience the beauty of the cultural heritage.
But we do not only work with fixed arrangements. We love to think along with you and create a tailor-made program for you. Of course we do that based on your wishes and your budget. This can be a fully arranged trip with music and a chef or a BBQ on board, but also just an hour of sailing with a picnic on an island on the way. Our boat can accommodate 12 people. But if you have more, we will arrange extra boats.
Watch the sun rise or set? We have the time … Even a night trip is possible. We are also happy to arrange excursions, team building activities or water sports for you. Earlier, our guests took a miller's course or learned to catch and smoke eels.
In short: everything is possible!